Like other e-commerce trading website, there is always a certain risk. To minimize the risk, warehouse staffs will inspect every commodity when it reaches the China Logistics Center. It is estimated that about 90% of the commodities with obvious defects can be found before it is shipped to Singapore.
Checklist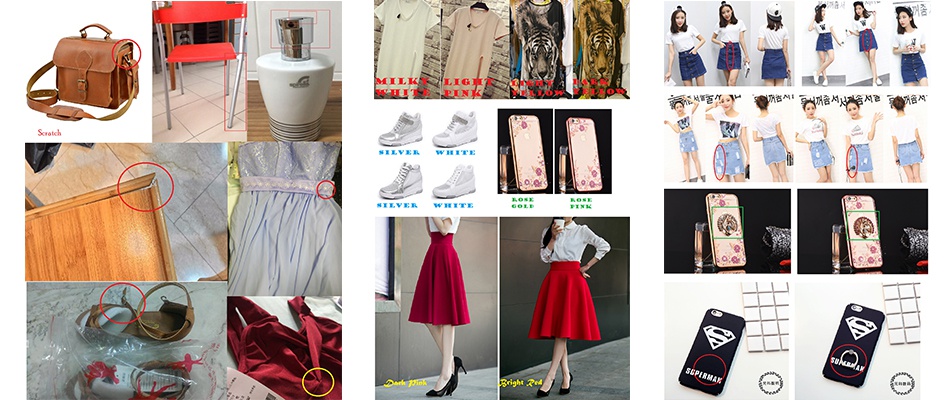 Quantity

Check if the quantity of the goods match the order.

For example, you have ordered 10 bales of hairpins, 100 for each bale. We will make sure that we receive and send 10 bales.

Style

The goods will be compared with photos provided by third-party sellers on the Internet. Please note that we may not be able to detect minor differences or defects which is not obvious.

Color

We will check the color of the product approximately. (Any part of the color or design differences are not included in our inspection. The pink of peach and rose are both considered pink. The color of the product may differ from the color displayed on your computer screen, because different computer will display different colors depending on its settings. )

Size

Dimensions will be checked according to the labels on the goods. We are not responsible for the size problem caused by the wrong labeling by the seller.

Obvious defects

We will check some obvious errors that can be found by the naked eye. Note: For orders with unit price below ¥50.00, we will check quantity only. For buying in bulk, we will make random inspections. For example, if the quantity of a single order is more than 100 pieces, we will check the color, style and so on at random, instead of checking one by one. We can only guarantee about 95% accuracy.

* For goods packed in wooden cases or packed independently, we do not inspect them.

* We can't tell the authenticity of the goods. Please pay attention to the following important tips.

Quality problem

Quality/function testing will not be conducted. SiLuMart is not responsible for any quality or function issues. If you find quality/function problems of the received products, you can report to us so that we contact the seller to assist you in obtaining maintenance/replacement, but the shipping fee is taken by yourselves. If you find the product has been used and have problems in quality and function, you can still report to SiLuMart as long as the product is still under warranty, and the purchase invoice and quality guarantee card are still available. SiLuMart cannot guarantee that the seller will fully satisfy your needs, but we will try our best to serve you in the best way.

Inspection excluded

• Use external boxes/materials for sealed packaging.

• Gifts (quantity and quality).

• Packaging/boxes of goods.

• The item is smaller than 2.5 centimeters.

• DIY items that need to be assembled (e.g. furniture, components).

• Connect product accessories to items (e.g. ribbons, laces, zippers, buttons).

• Virtual items (e.g. electronic documents, CD key passwords).
Note: the seller may refuse to replace the following goods:
a) Repaired;
b) The commodity's value loses once it is opened, such as software packages;
c) Commodities without original purchase certificates;
d) Commodities with wear cracks caused by using
e) Commodities tailored to the seller's policy may not returns or exchange/refund;
Refund process
Take photos of the items

Please take photos of the items and exterior packages (including bar codes).

Submit applications

Submit the application online in the website "User Center > After-sales Application"

Wait for reply

SiLuMart will investigate and reply to you within three working days,

Customers confirm that they have received the items which are in good condition and there will be no dispute after confirming the order.

Return the items

Return your purchased items to the warehouse designated by SiLuMart. The cost of returning will be borne by you. (Whether the items need to be returned depends on the actual situation.)

Receive return and refund

If you return the items, we will refund after receiving your return.

If you do not return the items, we will refund them in 3 to 7 working days. (Depending on the seller's refund rate)
Note:
Please note that our inspection service does not include the identification of authenticity. Correspondingly, neither China's logistics center nor SiLuMart can check or identify the authenticity of the products you buy. You can check all the information and pictures provided by sellers. You can also communicate with the sellers to get more information needed to meet your requirements for authenticity of purchased goods.
At the same time, if you have any questions about the authenticity of online merchandise, please do not buy. We will not bear any loss or additional expenses incurred by a third party in respect of any protected party claiming to have suffered as a result of the fake or inferior products you purchased. Besides, SiLuMart is purchased and shipped abroad by your commission, including but not limited to settlement fees, court litigation fees, statutory sentences, lawyer's agency fees. We will not bear any responsibility for this. As stated in the Code of Protection, you will assume full responsibility and fully protect, exempt and compensate for any compensating party of SiLuMart, China Logistics Center, all directors, shareholders, employees, officials and agents of SiLuMart ("compensating party").
Last updated: December 5, 2019